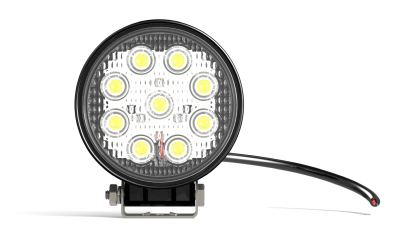 27w Round LED Work Light CAD
This is an accurate CAD model of the 27w Round LED Work Light 30 Degree Spot Light, available on amazon for ~$10 each. It is an inexpensive LED unit which is decently constructed and moderately weather sealed. I have seen these used on everything from Jeeps to ATVs to scooters and even as auxiliary reverse lights on larger medium duty trucks. I modeled the version with the 30 degree projection angle. I have designed this to be as realistic as possible with photoview 360.
Electric Scooter Rebuild
Upgrade of a 2000s Currie scooter to a daily driver. Added custom batteries, motor controller, speakers, Bluetooth, an amplifier, & underglow. This project encompasses several Currie scooters, mix & matching bicycle components and heavily modifying purpose built toys into every college student's dream transportation.
HP 54502A Oscilloscope Repair
Repair of an '89 HP oscilloscope to factory calibration. Originally recovered from an ewaste bin while I was attending my Alma mater. This repair entails replacing the CMOS clock chip by soldering in female pin headers and sourcing a replacement. Calibration was reset to factory standards using HP service manuals.
Arcade Machine Repair
The RPI Game Design Club features an arcade machine in the Union Game room, full of home-grown student created games. This arcade machine has been down for quite some time, and through collaboration with the Game Design Club, I was able to bring the arcade machine back into commission.
Open Slider Project
This project focuses on the creation of an open source camera slider & intervalometer. Basically, this device will allow the capture of moving timelapses, and still retain the ability to be used manually. This project will be designed for use with a wide range of cameras: from basic Point & Shoots to high end DSLRs. Designed an open source modular camera slider which uses universal standards to keep costs low and ease in assembly.
Marshmallow Trebuchet Project
For Introduction to Engineering Design there two main projects, a mini project and a large group project. The mini project offered a selection of projects to build: a line following car, a mouse trap car, or a marshmallow launcher. For the mini project, my partner and I decided to build a marshmallow Trebuchet. Here is our Trebuchet.
Helmet Cam
Browsing around a bit on Youtube, I noticed that the popularity of sports / adventure photography has risen significantly. I decided that having a helmet camera would not be a bad idea, so here's my guide on how to make your own DIY Helmet cam.
Soldering Magnifier
As I was looking through my regular selection of tech websites, I came across a concept so simple I can't believe I never considered it before: a Soldering Magnifier. It never dawned on me how useful a lens, LEDs and an old desk lamp stand could be in soldering. A soldering magnifier would sure aid in diagnosing PCBs. Here's my guide on how to make your own.
GH1 Shutter Fix
Luckily I was able to win another broken micro four thirds camera on ebay! This time I found a GH1 with a stuck shutter. The straps were removed as well, so the GH1 had a stuck shutter and sounded like a box of nuts. This is a guide on how I was able to get the camera back to 100% working order.
GH1 Error
To add to my broken camera buying spree, I won my first Panasonic Lumix GH1. It apparently suffered from shutter problems. What surprised me the most was that they sold the camera and the 20mm f1.7 lens in the same auction.
Nexus One Digitizer Repair
Being halfway through sophomore year of college, I finally realized that I needed a phone. Yes, I could go on using Google voice until it stops being free, but I realized I needed something more practical. Carrying a 15.6 laptop around to receive calls is a bit absurd. Using Google voice for so long, I really didn't feel like shelling out big bucks to pay for a phone. Thus, I went with an all time classic: a broken Nexus One.
Panasonic GF1 Fix
This is a guide on how to fix a water damaged Panasonic Lumix GF1. In this case, I wasn't the unlucky one who dropped the camera in a body of water, but rather one who bid on this poor camera in hopes of bringing it back to life.
LED Flashlight Project
Realizing my flashlights were far too dim for my needs, I set out to build a practical, yet affordable high-power flashlight for everyday use. This project digs into the nitty-gritty behind making your own high power LED flashlight.
Digital Projector Project
When I saw this light spectrometer in the electronics bins, I simply could not pass it up. One: it had two lenses on it; Two: it was built like a tank; Three: it had adjustable feet. In my opinion, those characteristics spell out one thing: an amazing digital projector.
Old School MIDI Controller
I noticed this cassette recorder in the ewaste bins, and I just could not pass it up. I simply couldn't get over the build quality of this piece and the fact that it was made in Norway! The first thing that came to mind when I thought of a practical application was a midi controller, since linear potentiometers are an essential part of commonly used midi controllers. In this article I delve into the insides of this cassette recorder and attempt to build a practical and cost effective midi controller.
Dolch Militarized Laptop Re-Build
This project focuses on rebuilding an ultra-rugged Dolch laptop. I plan to upgrade the inner hardware and design custom boards for power management, battery monitoring and other operations.My main goal is to build an ultra durable laptop for extended use, with long battery life and outdoor capabilities.
Led Grid Project
This project focuses around the implementation of (3) 24x16 sure electronics LED grids as a large information display board.
Headphone Stand Project
I needed a place to put my headphones, and just laying them on my desk wasn't satisfying enough. I felt my headphones deserved to be left in a more desirable place: on a headphone stand.
Panasonic Lumix GF1 PSU Mod
This project is for those who want a cheap and easy solution to make a power adapter for their DMC-GF1 without having to pay the $40 premium.
Salvaging Old Camcorders
The one thing that hasn't changed much in the past few decades is the usefulness of lenses! In this case, I found (2) early 90s shoulder mount camcorders which used HI-8. Unfortunately, HI-8 has been a dead format for years and years. However, the optics are still great! In this article I go through the disassembly of a Ricoh and canon camcorder to salvage the lenses for potential use on micro four thirds.
Apple IIC External Hard Drive Mod
Documentation on how to transform an old Apple IIC Floppy Drive into a modern day external esata Hard Drive.
Axial Dorm Fan
I decided to build another window fan with (2) 115v axial fans I had salvaged from the ewaste bins at my college.
Dorm Room Fan
A guide on how to make your own dorm room fan out of a blower from an old microwave.
Zune Rebuild
A guide on how to replace the battery in an 80GB Zune.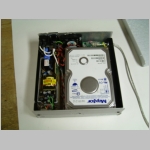 External Drive
How to build an external USB hard drive out of an old data switch shell, a power supply, and an IDE hard drive.
NES
How to repair a broken Nintendo Entertainment System (NES). How to fix the classic NES security chip issue.
Eagle Scout Project
Documentation on my Eagle Scout Project, Completed with Troop 206 at Woodhull Intermediate.
BU Competition
This is a guide on how I approached the 2009 Boston University engineering competition.
Slide Projector
How to build a slide projector out of an outlet box, a slide projector lens, and sheet metal.
Logitech G5 Rewire
A guide on how to replace the problematic knotty USB cable on a Logitech G5 mouse.
Eeepc XP Install
A guide on how to install Windows XP on a laptop too small for a CD drive: an Eeepc.
AMD Minifridge
How to build a custom microatx form factor computer, or Minifridge.
Hotshoe Viewfinder
This is a guide on how to build a make-shift hot shoe viewfinder, which is quite useful for advanced point & shoot cameras and compact mirrorless cameras without any type of viewfinder.
LCD Repair
This is a guide on how to diagnosis problematic LCD's through analysis of backlight issues, digital display board issues and power supply issues
Electric Bike
This is my first real electronics project. It involves using a really cheap mountain bike, a retrofit treadmill motor, some various through-hole salvaged components and a capacitors bank for temporary energy storage. Oh and did I mention it featured a 2x16 char LCD with GUI? For a 9th grade high school science project, I think that is pretty cool.