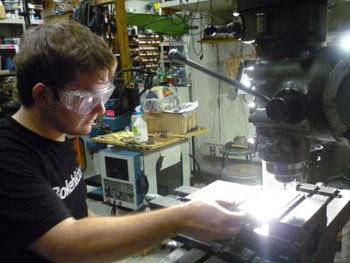 Hi! I'm Anthony Kouttron. I'm an electrical engineer and an alumnus of Rensselaer Polytechnic Institute. You have arrived at my personal project website. Here you'll find articles ranging from repairing test gear to reviving digital camera equipment to manufacturing electronic hardware from scratch.
I have always enjoyed the physical and tangible nature in which hardware solves a problem. I decided to apply my experience and mechanical knowledge toward making devices of my own. Salvagedcircuitry serves as an avenue to share my projects and designs in efforts to create more sound and polished electronics, not just rushed penny-pinched designs.
These days I expend my efforts towards building fully functional, purpose-built hardware that blends the boundaries between practicality and functionality, and am an active member of the open hardware community.
Interests:
Electronics
Test Equipment
PCB Design
EMI
EMC
CPU Architecture
Optical Engineering
Legacy Technology
Android
Micro Soldering
Cinematography
Photography
Medium Format
Signal Processing
Mechanical Engineering
Manual Machining
CNC
RF Design
Automotive Engineering
Repair
Reuse
Recycling
Electric Vehicles
Acoustics
Amplifier Design
Hacking
Modding
Overclocking
Lens Design
Battery Technology
Open Software
CAD
FEA
Manufacturing
DFM
Open Hardware
Dumpster Diving
Data Analysis
Electric Scooters
Sensor Technology
Motor Control
Lighting
Mobile Technology
Teardowns
Render Farms
Product Development
Documentation
Programming
Linux
Web Design
Great Resources:
Find me on: