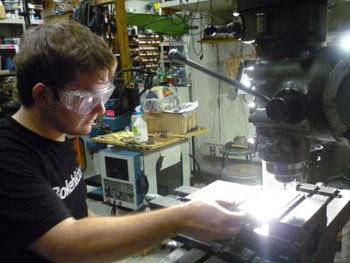 Hi! I'm Anthony Kouttron. I'm an electrical engineer and an alumnus of RPI. This is my personal website devoted to all my crazy projects and ideas that I have amassed over the years. The projects you will find here can range from piggy-backing ram on vintage 8086 hardware to repairing old bench equipment to reviving micro four thirds cameras & lenses.
Ironically, my interest in computers and electronics was birthed from the pure stupidity of Windows ME (thanks Microsoft), which was about as reliable of an operating system as dialup internet on a rainy day. From the bi-hourly BSODs on my home PC, and the correlation of these BSODs and my computer usage approaching one, my brothers were thoroughly convinced that I was the root of all computer problems. I took this on as a challenge, slowly refined my skill at computing, and eventually surpassed them in technological know-how. Yes, I installed XP. :D
Of course, that was not the end of my electronic endeavors. Around ten, I began scouring my neighborhood for discarded computers and various other electronics. I had the garbage days memorized. I slowly began collecting old '90s computers from neighbors and started my own computer collection. I developed background knowledge in legacy computers by reading reference hardware books, so generously given to me by a fellow neighbor.
I continued to expand my horizons and picked up reading PCmag, extremetech, anandtech and several other hardware publications. I decided in my middle school years that I wanted to one day design the hardware I was so fond of using. This lead me to pursue a degree in electrical engineering, and develop my hobby into a full time career. Who knows where it will lead me next, but it will be one hell of a ride, that's for sure.
Interests:
Electronics
Test Equipment
PCB Design
EMI
EMC
Legacy Technology
CPU Architecture
Android
Micro Soldering
Cinematography
Photography
Medium Format
Signal Processing
Mechanical Engineering
Manual Machining
CNC
Optical Engineering
RF Design
Automotive Engineering
DIY Repair
Reuse
Recycling
Electric Vehicles
Acoustics
Amplifier Design
Hacking
Modding
Overclocking
Lens Design
Octocopters
Battery Technology
Open Software
CAD
FEA
Manufacturing
DFM
Open Hardware
Dumpster Diving
Data Analysis
Scooters
Sensor Technology
Motor Control
Lighting
Mobile Technology
Teardowns
Render Farms
Product Development
Documentation
Programming
Linux
Web Design
Find me on: