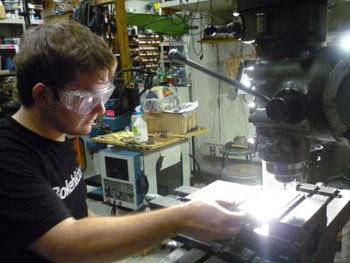 Hi! I'm Anthony Kouttron. I'm an electrical engineer and an alumnus of Rensselaer Polytechnic Institute. This is my personal website devoted to documenting all my current and past projects. Here you'll find projects ranging from repairing test equipment to reviving micro four thirds cameras & lenses to manufacturing electronic hardware from scratch.
My interest in electronics began from a young age. Learning material craftsmanship, the art of repair and artistic design from my parents, I developed a keen interest in repairing any broken item within my grasp. A favorite pastime of mine was biking with my brothers on garbage night, scouring through my neighborhood for discarded garden equipment, engines, computers and various other electronics left at the curbside. While my brothers primarily took interest in repairing engine driven contraptions, I had a budding desire for repairing electronics. It was not long before the once cluttered basement became storage for mountains of '90s computers cast aside by previous owners.
I developed my troubleshooting skills by consuming as many reference hardware books as I could get a hold of, and tired out the pages of my local library's computer hardware section. It didn't take long before I subscribed to PC magazine, Extremetech, Anandtech, Maximum PC and several other hardware publications.
Ironically, my interest in computers and electronics was set in stone by the pure instability of Windows ME, the included operating system on my family's first computer. ME was about as reliable of an operating system as dialup internet on a rainy day. I soon became the family electronics guru. I decided in my middle school years that I wanted to design the hardware I was so fond of using and troubleshooting. In high school, I expanded my personal projects to include 8bit microcontrollers and decided to pursue a degree in electrical engineering to further develop my hobby into a full time career.
I have always enjoyed the physical and tangible nature in which hardware solves a problem. After graduation, I decided to apply my studies and past knowledge toward making devices of my own. This led me to develop salvagedcircuitry as an avenue to share my projects and designs in efforts to create more sound and polished electronics, not just rushed penny-pinched designs. These days I expend my efforts towards building fully functional, purpose-built hardware that blends the boundaries between practicality and functionality, and am an active member of the open hardware community.
Interests:
Electronics
Test Equipment
PCB Design
EMI
EMC
Legacy Technology
CPU Architecture
Android
Micro Soldering
Cinematography
Photography
Medium Format
Signal Processing
Mechanical Engineering
Manual Machining
CNC
Optical Engineering
RF Design
Automotive Engineering
DIY Repair
Reuse
Recycling
Electric Vehicles
Acoustics
Amplifier Design
Hacking
Modding
Overclocking
Lens Design
Octocopters
Battery Technology
Open Software
CAD
FEA
Manufacturing
DFM
Open Hardware
Dumpster Diving
Data Analysis
Scooters
Sensor Technology
Motor Control
Lighting
Mobile Technology
Teardowns
Render Farms
Product Development
Documentation
Programming
Linux
Web Design
Find me on: